₹0
Sheetal King Premium Water Tank 4 Layered
Seller : swastik traders
Details :UV Stabilized, Rough Texture Surface, FDA Compliant Material and Made with 100% Virgin HDPE.
Usage : Water tanks are large containers that store water. This is great for people who need water for a variety of reasons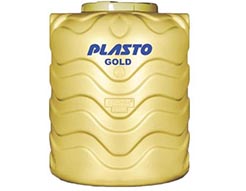 ₹2750
Plasto Gold Water Tank 6 Layered
Seller : swastik traders
Details :100% Food grade Plastic Material, Safe for drinking water, UV Stabilized for longer life
Usage : Plasto water tanks are made from blow mould technology. They are made up of 100 % food grade material. The multi layered water tank is best in quality and safe for Drinking Water.